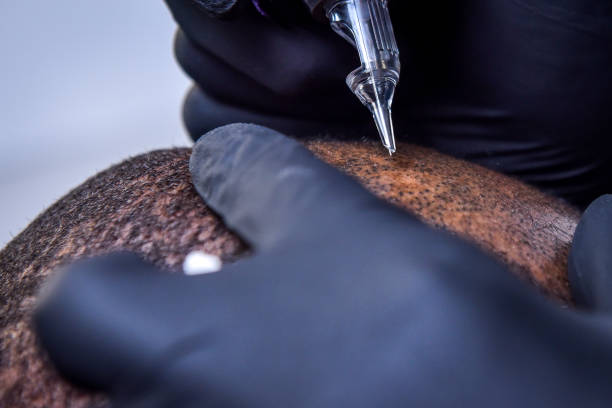 Do you have thinning or hair loss issues? Do you desire a prompt, inexpensive, and effective solution? Go no further than scalp micropigmentation (SMP), a cutting-edge cosmetic tattooing method that imitates the appearance of a head of hair that has been shaved.
SMP has become more well-known in the past few years as a non-invasive and successful method for treating baldness and increasing self-confidence.
This comprehensive guide to scalp micropigmentation will cover all the essentials, including how it functions, what to anticipate during the surgery, and aftercare advice. Prepare to learn how SMP can help you achieve thicker, more vibrant hair!
What to Expect From a Scalp Micropigmentation Procedure
Consultation
The consultation procedure is a crucial phase of the SMP method since it enables the certified specialist to comprehend your hair loss difficulties, medical background, and intended SMP objectives. In this session, the technician will check your scalp and gauge the extent of hair loss in order to develop a personalized treatment strategy that is suited to your particular requirements.
To ensure that the color integrates perfectly with your current hair, the technician will also evaluate the color and structure of your natural hair. They will also go over the process in detail, respond to any queries you might have, and give you a clear picture of what to anticipate prior to, during, and after the treatment.
The Treatment
The technician will inject the dye into the scalp at the time of the procedure using a tiny, sterile needle. Depending on the size of the treatment region, the procedure normally lasts several hours. Although there may be some pain for you, the expert will use numbing cream to lessen it.
Aftercare
To ensure that your SMP surgery heals successfully and that the color sets perfectly, leading to natural-looking and durable results, adequate aftercare is essential. You will be given particular aftercare recommendations shortly after the treatment, including keeping the treated region dry for a few days and staying away from vigorous activity like intense exercise or sweating.
It's also crucial to refrain from using any abrasive shampoos or hair treatments at this time. You can have a few minor side effects, including redness, inflammation, and itching, in the days after the treatment. These are common and should go away in a few days. To reduce any potential difficulties, it is crucial to adhere to your specialist's aftercare guidelines.
Maintenance
SMP is a long-lasting hair loss treatment, but it does need some upkeep. You should avoid spending a lot of time in the sun and avoid using abrasive shampoos or hair treatments. You might also need touch-ups every few years to keep the pigment's look.
Results
SMP produces both rapid and long-lasting results. After the procedure, your hair will look fuller, and the pigment will last many years. SMP is a fantastic alternative for people experiencing hair loss because it provides a low-maintenance, natural alternative.
To get your treatment done by the best scalp micropigmentation clinic, contact us at Million Dollar brows today. We provide the best services for scalp micropigmentation near me in NH and promise satisfactory results!