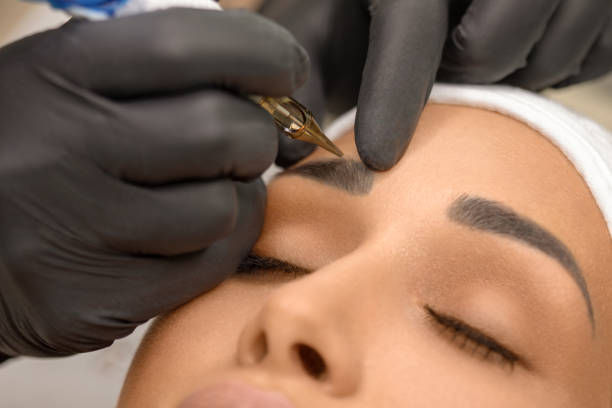 If you're anything like us, you've definitely spent numerous hours using cosmetics to perfect your brows, only to have them smudge or vanish by the end of the day. The best option for beautiful, semi-permanent eyebrows is microshading.
But let's face it, not everyone can afford cosmetic procedures at a Kardashian-level price. For this reason, we have researched online and consulted professionals to provide you with seven insider suggestions for reducing the cost of microshading without compromising quality.
Prepare to get the most beautiful brows of your life without going broke!
7 Tips for Saving Money on Microshading Cost
Request Referral Bonuses
Ask your friends or family members who have had microshading performed whether they have access to discounts for referring you to the artist.
Customers who recommend new clients to microshading artists frequently receive discounts from them. This might be a terrific way to support a friend or family member while saving money on treatment costs.
Think About Group Sessions
Consider scheduling a group session if you have many friends or family members interested in microshading.
You may be able to lower the price of your treatment by taking advantage of the discounts many artists give to groups. Just be certain that everyone in your group feels at ease with the artist and approves of the treatment.
Check for Seasonal Discounts
Seasonal sales are common among microshading professionals to encourage business when demand is down. You might be able to receive a discount, for instance, in the wintertime when business is normally sluggish. Keep a watch out for these reductions, and benefit from them when they appear.
Follow Artists on Social Media
Keeping up with microshading artists' most recent sales and discounts may be done by following them on social media. Make sure to follow your favorite artists and estheticians on your social media channels because many of them are likely to post about their discounts and promotions there.
Engage in Trade Shows
A fantastic strategy to meet microshading artists and learn about their services is to go to trade exhibitions and conferences. You can save money on your treatment because many participants give guests discounts. Before committing to a treatment, do your homework and choose an artist with a solid reputation.
Find Groupon Deals
A well-known online marketplace called Groupon provides discounts on various goods and services. Before scheduling your appointment, check Groupon for savings since many microshading artists offer promotions there. Just do your homework and read the reviews before agreeing to a Groupon offer.
Negotiate with the Artist
Last but not least, don't be scared to haggle with the artist about how much your treatment will cost. Many artists are open to negotiating prices with customers in order to reach a pricing that benefits both sides. Just remember to show respect and recognize that the artist also has to support themselves.
In conclusion, there are various strategies to reduce the cost of microshading without compromising quality. There are several alternatives, whether you're seeking referral discounts, seasonal discounts, or Groupon specials. You may get the ideal brows without going over budget by doing some research and keeping up with the most recent sales and deals.