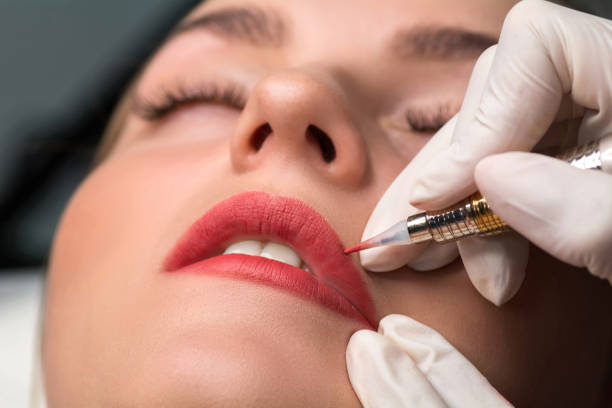 Although lip tattooing has been used for many years, it has recently gained popularity in the cosmetics industry due to social media's emergence and beauty bloggers' impact.
There are many different varieties of lip tattooing to select from, each with distinct advantages and disadvantages, ranging from bold lip liners to subtle lip blushes.
But there are so many choices that it can be difficult to know where to begin. We're here to explain the various lip blushing styles and assist you in choosing the one that best suits your preferences and requirements!
3 Popular Types of Lip Tattooing
Lip Liner Tattoo
A lip liner tattoo is a cosmetic procedure in which the lips' outside border is precisely tattooed. This ink is intended to draw attention to the lips' natural form, add symmetry, and give the wearer a youthful look by defining the lip line.
A trained tattoo artist will apply pigment to the skin along the lip's border using a particular needle during the process. A precise application of ink results in a lip line that looks natural and won't smear or discolor over time. An attractive lip enhancement that is long-lasting and low-maintenance can be achieved by altering the color and thickness of the tattoo to the client's desires.
Lip Blush Tattoo
A lip blush tattoo may be the perfect solution if you're seeking a modest yet attractive technique to accentuate your lips' natural color and shape. This method uses a small amount of pigment that is carefully applied to the lips to provide a long-lasting, natural-looking blush of color.
Lip blush tattoos are a low-maintenance approach to obtaining a soft and natural lip tint because they won't smear or fade off all day, unlike regular lipstick or lip gloss, in order to give you a youthful and revitalized appearance, the tattooed lip color is carefully selected to go with your skin tone and accentuate the natural form of your lips.
Complete Lip Tattoo
A complete lip tattoo can be the answer you've been seeking if you're sick of having to reapply your lipstick or suffer from smudged lip pigment. This cutting-edge cosmetic procedure tattoos the entire lip area to provide a natural-looking lip tint that won't smear or wear off.
One advantage of getting a tattooed lipstick is that it can streamline and expedite your everyday cosmetic regimen. You are no longer required to worry about freshening up your shade of lipstick or reapplying makeup every few hours. You can select the best lip tattoo color and alter its shade and intensity when getting a complete lip tattoo, making it possible to personalize it to your tastes.
Remember that lip tattoos can be uncomfortable and need to be done by a qualified and experienced tattoo artist, so Million Dollar Brows should be your first choice if you're looking for a salon for lip tattooing near me. Contact us right away to make an appointment!