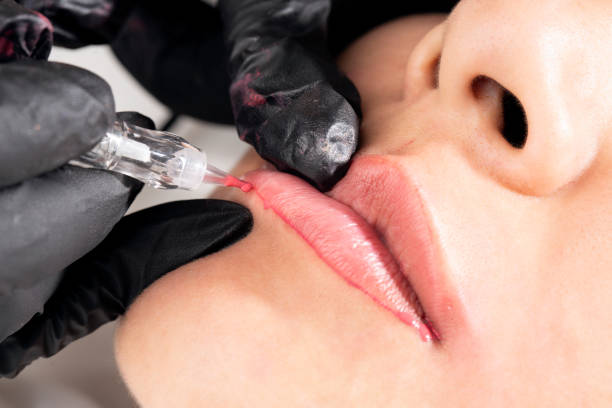 In search of a lipstick that won't budge, stain, or fade? It's time to choose something more long-lasting rather than the conventional tubes – a permanent lipstick! Although the thought of getting a lip tattoo may seem frightening, it's actually a well-liked cosmetic fad that has several advantages.
There are numerous benefits of getting permanent lipstick, including time savings on touch-ups and enhancement of your natural lip shape. In this article, we'll explore five reasons why getting permanent lipstick is a decision you won't regret.
5 Reasons to Get Permanent Lipstick
Saves Time and Money
One of its main advantages is that permanent lipstick ultimately saves you time and money. Consider how much of your day is spent applying and reapplying lipstick. Not to mention how much it costs to purchase numerous lipsticks and cosmetics.
With permanent lipstick, you can do away with touch-ups and ultimately save money. Also, you won't ever have to worry about your lipstick fading or smudging.
Improves the Natural Lip Shape
Enhancing your natural lip shape is another advantage of permanent lipstick. Permanent lipstick can help you get a more pronounced, thicker look if you're not content with the shape or size of your lips. Your permanent makeup expert can assist you in selecting a color and shape that enhances your natural features and offers you the ideal pout.
Long-Term Effects
Permanent lipstick remains in place for several years as opposed to conventional lipsticks, which are quickly removed after drinking, eating, or talking. Hence, you won't have to bother applying lipstick repeatedly during the day. Permanent lipstick is also water-resistant so that you can swim, shower, or exercise without fearing your lip color will fade or smear.
Encourages Confidence
When their lips are painted with a bright color, many people feel more certain and self-confident. You can have flawlessly colored lips that leave you feeling positive about yourself every morning if you use permanent lipstick. Permanent lipstick can also help hide any scars or discolorations on your lips, which can make some people feel insecure.
Appears Natural
The fact that permanent lipstick produces results that look natural is another advantage. Permanent lipstick can imitate your lips' natural shape and color when applied properly by a qualified and experienced specialist.
You won't be concerned about your lips appearing false or overdone as a result. By adding shape and color to your lips without making them look unnatural, permanent lipstick can enhance your inherent attractiveness.
So, to conclude, because of its long-lasting color, time-saving advantages, ease of maintenance, adaptability, and confidence-boosting effects, permanent lipstick is an investment that is worthwhile.
We provide professional permanent makeup services at Million Dollar Brows to improve your beauty regimen and save you time. Please make an appointment with us right now to enjoy the comfort and security of permanent lipstick!